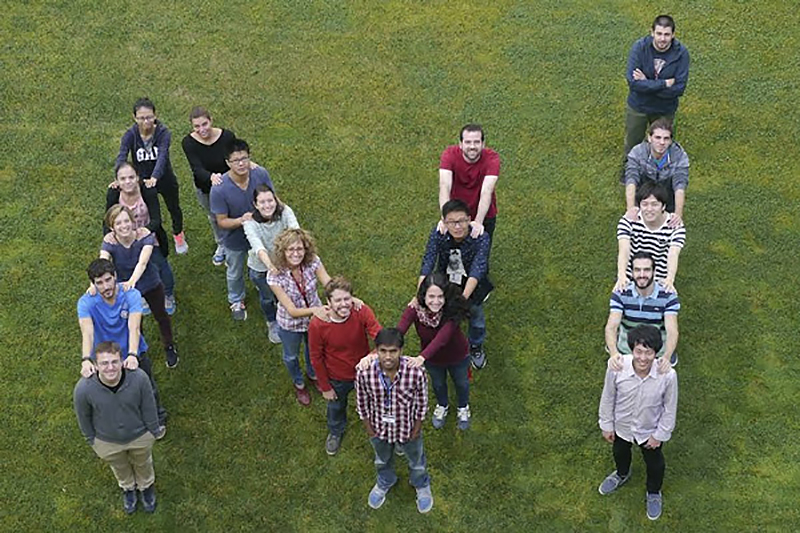 Group Leader:
Ruben Martin, ICREA Professor
Administrative Support:
Ingrid Mateu
Technician:
Míriam Sau / Sergio Sopeña
Postdoctoral Researchers:
Hongfei Yin /Basudev Sahoo / Yaya Duan / Jacob Davies / Daniel Janssen-Muller / Francisco Julià (until Aug.) / Veera Reddy Yatham (until May) / Xiang Wei Liu (until Feb.).
PhD students:
Marino Börjesson / Rosie Somerville / Yiting Gu / Andreu Tortajada / Raúl Martin / Shang-Zheng Sun / Fei Cong / Yangyang Shen
Master students:
Bradley Higginson
Visiting students:
Isabel TeresaAlt (Oct.-Dec.) / Ricardo Salvatore Mega (Sept.r-Dec.) / Tomoyuki Yanagi (May-August) / Georgios Toupalas (until May) / Kentaro Hohjoh (Jan.-March)
Summer fellows:
Antonio García
Summary
Research by the group of Prof. Martín focuses on discovering the potential of the catalytic functionalization of raw materials for the synthesis of valuable compounds from simple and abundant precursors. Recently, they have described a catalytic technology capable of fixing carbon dioxide in saturated and unsaturated hydrocarbons to prepare fatty acids, key building blocks in the manufacture of polymers, detergents, cosmetics and pharmaceutical products.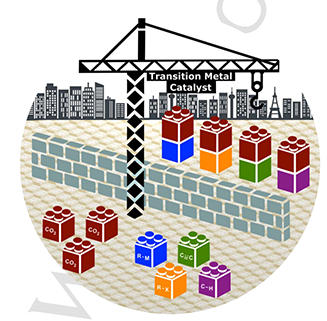 Publications
'Ni-Catalyzed Site-Selective Dicarboxylation of 1,3-Dienes with CO2'
A. Tortajada, R. Ninokata, R. Martin
J. Am. Chem. Soc. 2018, 140 (6), 2050-2053
'Walking Metals for Remote Functionalization'
H. Sommer, F. Juliá-Hernández, R. Martín, I. Marek
ACS Cent. Sci. 2018, 4 (2), 153-165
'Nickel-Catalyzed Umpolung Arylation of Ambiphilic α-Bromoalkyl Boronic Esters'
S.-Z. Sun, R. Martin
Angew. Chem. Int. Ed. 2018, 57 (14), 3622-3625
MORE PUBLICATIONS
'Forging Amide Bonds via Metal‐Catalyzed Cross‐Coupling Reactions with Isocyanates'
E. Serrano, R. Martin
Eur. J. Org. Chem. 2018, 2018 (24), 3051-3064
'Transition Metal-Catalyzed Carboxylation reactions with Carbon Dioxide'
A. Tortajada, F. Juliá-Hernández, M. Börjesson, T. Moragas, R. Martin
Angew. Chem. Int. Ed. 2018, 57 (49), 15948-15982
'Intermediacy of Ni–Ni species in sp2 C–O bond cleavage of aryl esters: relevance in catalytic C-Si Bond Formation'
R. Somerville, L. Hale, E. Gomez-Bengoa, J. Burés, R. Martin
J. Am. Chem. Soc. 2018, 140 (28), 8771–8780
'sp3 C–H Arylation and Alkylation Enabled by the Synergy of Triplet Excited Ketones and Nickel Catalysts'
Y. Shen, Y. Gu, R. Martin
J. Am. Chem. Soc. 2018, 140 (38), 12200–12209
'Site-Selective Ni-Catalyzed Reductive Coupling of alpha-Haloboranes with Unactivated Olefins'
S. Z. Sun; M. Borjesson; R. Martin-Montero; R. Martin
J. Am. Chem. Soc. 2018, 140 (40), 12765–12769
Projects
LABEL-DIOX
Late-stage catalytic carboxylation techniques wiht labelled carbon dioxide: new opportunities for radiolabelling
ERC Proof of Concept | Ref: 755251
Nickel-catalyzed functionalization of carbon oxygen bonds for building up molecular complexity
Alexander von Humboldt Foundation | Ref: AvH-DEU/1192108
CATINERT
Grup d'Activació Catalítica d'Enllaços Inerts
AGAUR | Ref: SGR 938
CHAOS
C-H Activation in Organic Synthesis
COST-European Cooperation in Science and Technology | Ref: EU Cost Action 15106
Theses Supervised
Yangyang Shen
November 12th, 2018
Universitat Rovira I Virgili
"Visible Light Photoredox Promoted Transformations of Inert Chemical Bonds"
Features
Rubén Martín wins the Banc Sabadell Foundation Prize for Sciences and Engineering
http://www.iciq.org/ruben-martin-wins-the-banc-sabadell-foundation-prize-for-sciences-and-engineering/
Prof. Rubén Martín receives prestigious international awards
http://www.iciq.org/prof-ruben-martin-receives-prestigious-international-awards/